Rules of the Road: There are only 2 Rules
Hello and welcome to Diamonds in the Dark!
If you're here, you've chosen to give yourself a place to create, and for this- I shake you warmly by the hand. It is a gift to ourselves to have such a space in which we can be truly honest with ourselves. Because this course demands so much brutal honesty, and since I am more or less here as your creative concierge, your Chiron in the underworld, I will be brutally honest with you as well. This is why I am here, writing these words and preparing the boat for the Styxx.
I believe that your life has value. I believe that your ideas and hunches and creative desires that keep you up at night are not only worth exploring, I believe that it is imperative that you do so. Imperative for your own well-being, and imperative that those yearnings in your glass jar of fireflies not to be snuffed out without ever being given the chance to breathe.
I can't say it better than Martha Graham. This is what she said to choreographer Agnes de Mille, after the opening of "Oklahoma!":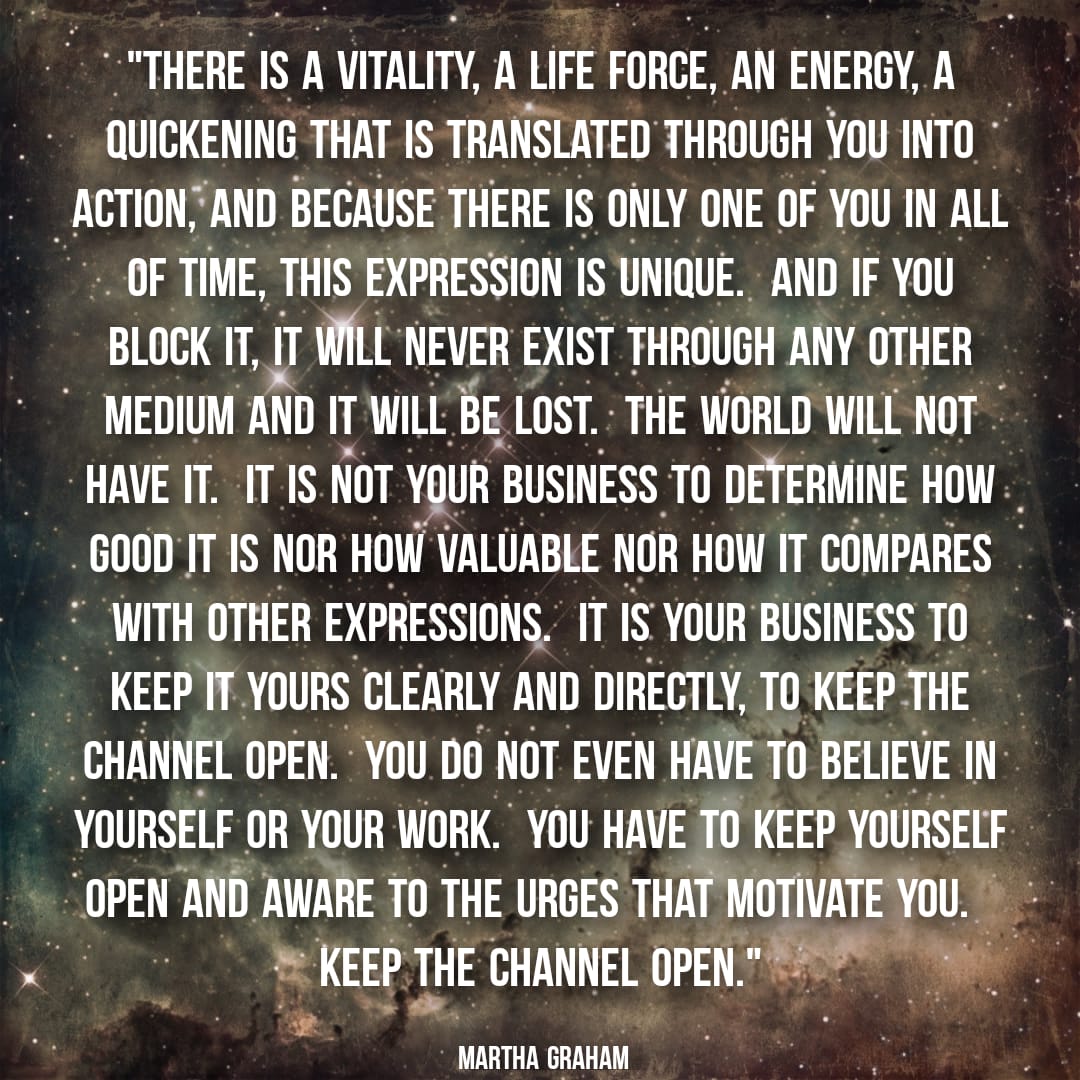 This is your charge. Keep the channel open, and tell the truth about what you find there. That's it, that's all it takes...just tell the truth.
There are only two rules:
Keep the channel open.
Tell the truth.
I could tell you how to create an act that is easy to cast in a show, how to behave at an audition, or how to design your promotional materials to appeal to a certain company...but I won't. The world has enough of pandering; and I won't help you do it. That which is waiting locked in you cannot be squeezed into an expectation without being mutilated. And that is what I am after...the truest, rawest, most honest expression of your core that you can stare in the face and tell the truth about what you see. I believe it is not only valuable and worthy, it is necessary. To accomplish this, we will need to suspend your own judgment of your work. We will need to perform a creative exorcism, if you will.
And I have just the thing. It's waiting below in the section called: PURGE. But first, some preparation.
Let us begin.
Complete and Continue